It's the middle of midterms here at IES Abroad Granada and you can feel the anticipation in the air. Just a few more exams and assignments separate us from a weeklong break of travel and relaxation over Spain's famed Holy Week celebration, Semana Santa. A few weeks back, I wrote a post about how to manage both work and pleasure in Granada. It is important to strike a healthy balance between an American study schedule and the Spanish going-out culture. But when you do feel that kick to be super productive, here is a guide for some of the best places to go.
Cafes:
Det'i
This charming, popular cafe is in the center of town, between the Cathedral and the Botanical Gardens. It offers a mix of counter seating, couches, and small tables. The staff are super friendly, and they have great breakfast deals and delicious baked goods.
Address: Calle Postigo de Zárate, 5
Hours: 8am-12pm, 4pm-8pm. Closed on Sundays. 
WIFI: Consistently good. Best I've found in Granada.
Music: A healthy mix of British punk rock, smooth jazz, and classic rock covers.
Notes: They have a customer loyalty card - every sixth coffee is free!
La Qarmita:
This beautifully decorated cafe is right off of Granada's main shopping street and it also doubles as a feminist bookstore! In addition to being a great place to study, they host writing workshops, literary open mics, and author lectures.
Address: Calle Águila, 20 
Hours: 9am-1pm, 4pm-9pm. Closed on Tuesdays. 
WIFI: Not this year. *sigh*
Music: Typical coffeehouse, singer-songwriter ballads that go down just as smooth as that cafe con leche.
Notes: Don't leave without trying the carrot cake!
Barraka
Very close to Det'i, this cafe is just as hip but much more lively and better suited for group work or meetings. They have a large menu with several American breakfast offerings and ample, open-air seating.
Address: Calle San Jerónimo, 24
Hours: 8:30am-8:30pm (opens at 9am on weekends). Closed on Mondays. 
WIFI: Very good.
Music: Conversations tend to drown out whatever's playing so I couldn't tell you.
Notes: They stay open through siesta hour which is nice, but tend to be crazy packed on Sundays, so this is a better place to check out during the week.
El Higo
If you're willing to make the trek up into the Albaicin, this cafe and tapas bar is a great place to come on a quiet morning to get some work done. They have a large living-room area that resembles Central Perk from Friends, as well as a beautiful outdoor patio. They serve hearty breakfasts in addition to fresh juices, and the local crowd is hip and friendly.
Address: Calle Horno del Hoyo, 17
Hours: 11:30am-12am, weekdays. 10:30am-12am, Saturday. 10:30am-7:30pm, Sundays. Closed on Mondays. 
WIFI: Pretty solid.
Music: Jazz or James Taylor is the usual mix, but the owner has been known to take requests!
Notes: This is one of the most popular tapas bars in the Albaicin, so it's better to come here in the morning to study, and then come back with friends in the evening to kick back with a copa or two. Be sure to check out one of their many concerts and poetry readings each month.
Libraries:
If you need a serious, quiet space to work, here are some of the best libraries in the city. These are all part of the University of Granada's WIFI network and are generally open from 8:30am to 8:30pm, only on weekdays. 
Facultad de Arquitectura
In plaza Campo del Príncipe, in the Realejo neighborhood is Granada's breathtaking architecture school. It's housed in a renovated 15th century palace that is now a beautiful mix of modern and renaissance style. The building has several libraries, patios, and open-air study rooms. I love to grab a coffee and croissant at one of my favorite cafes nearby before spending the better half of Friday morning tucked away in one of the study rooms, working on my thesis or writing my latest blog post! This is one of my absolute favorite study spots and is a great place to visit and tour as well.
Biblioteca del Derecho
Right next to Granada's beautiful law school which dates back to 1767 is the department's modern library. It has several stories of bright, white study rooms and the atmosphere is super quiet and focused. If you prefer working in a serious and stark environment, this is the place for you. And there are the beautiful botanical gardens as well as several cafes and bars nearby when you need a study break.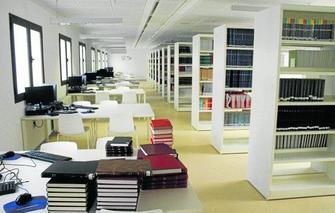 Hospital Real
Adjacent to Plaza del Triunfo is the Hospital Real which dates back to 1511 and was among some of the first Christian structures built in Granada following the conquest from its Muslim rulers in 1492. If you're a Harry Potter fan, the library on the second floor will transport you straight to Hogwarts. It's high ceilings, long wooden tables, and giant stacks of old books provide the perfect backdrop for intense studying. This is one of my favorite places to come on a rainy day, and when I need a calm and beautiful place to brush up on Andalusian history.
Outdoor Spaces:
Granada is the city of carmenes: private palaces with exquisite gardens that originated in the city's Islamic era. Here are two carmenes where you can go to study on a warm and sunny day. They generally stay open until around 6:30pm to 8:30pm, depending on the time of year. 
Carmen de la Victoria
Just a short walk uphill from the end of Paseo de los Tristes, this carmen is owned by the university and doubles as a hostel and exhibition hall. It's gardens are pristine, and the entire carmen has a spectacular view of the Alhambra. Because it's part of the university, it's tied to the UGR wifi network, so you can be super productive while soaking up some sun in this special hideaway.
Carmen de los Martires
Tucked away in the bosque de la Alhambra, the forest and gardens surrounding the famed monument, is a beautiful 19th century palace and estate that has since been converted into a public park. Peacocks roam its beautiful gardens adorned with fountains and sculptures. The entire property has beautiful views of the city and the Sierra Nevada mountains. No WIFI here, but it is the perfect place to come catch up on that class reading, or to spend a lazy afternoon journaling or reading for pleasure.
These are just a few of my favorite study spots in Granada. I enjoy mixing them up throughout the week, as well as discovering new ones all the time. I hope this guide is helpful and inspires you to get out on the town and be productive. Keep studying hard all my IES Abroad friends! Spring break is almost here!
Emily Churchill
<p>Hola caracolas! My name is Emily and I'm studying abroad in Granada, Spain for the 2017-2018 academic year. I'm a Spanish and International Studies major who is always looking for new ways to connect with my beautiful host city. I love to sing, play guitar, act, and have embarked on the journey of writing a historical fiction novel about Granada! In my free time, I love to run and hike in the Sierra Nevada mountains, get lost in the Albaicin, and explore new cafes and tapas bars with my friends. This semester I hope to try my hand at Flamenco guitar, take more siestas, and make even deeper connections with the city and its people.</p>
Term:
2017 Fall, 2018 Spring
Major:
International Studies
Spanish
Explore Blogs